Canyoning Descenders Review
Canyoning descenders are devices designed specifically for canyoning, allowing for quick setup, lock-off and adding/removing friction on the fly. Often with funky designs and originating from every corner of the world, they have also become collectible items amongst some canyoneers.
The canyoning descender has a hybrid design and is an evolution of other classic rappel devices such as the Figure 8, which is still being used by some members of the community mostly due to its cheaper price range. Despite, modern canyoning techniques such as the ones taught in V7 Canyoning Level 2 course are slowly phasing out the Classic 8 for other alternatives, and lately as a result we are seeing more canyoning descender options popping up in the market.
All canyoning descenders have similar characteristics:
they should fit tightly on our central carabiner
must allow for adding/removing friction while on rappel
provide multiple lock-off options
In this article we have selected some of the most popular canyoning descenders currently available for a review and comparison.
1. Kong Oka
The Kong Oka canyoning descender has been on the market for a few years now and it has become a popular option for guides and recreational canyoneers. Its name means 'duck' in Italian, can you see the resemblance? Turn it upside down and you'll see…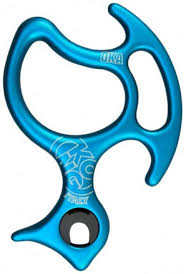 The Oka has a wide opening allowing its use with a wide array of rope diameters. The asymmetrical design features large spurs that render adding and removing friction a breeze, and also locking-off becomes easy even with large diameter ropes. Despite, its thin & rounded chassis profile does not provide enough friction for small diameter ropes (below 9mm) and thus it is not recommended for this type of use. The Oka also dubs as a versatile rigging device.
The thing we dislike the most about the Oka is its attachment point: the plastic element that holds the carabiner in place is fragile and comes off after a couple of uses. As counter-measure, Kong ships the Oka with 2 additional spare plastic elements. We'd give it a full five-star rating if this wasn't an issue. Maybe future iterations of the device will see this issue solved; we sure hope so, as it is a very nice descender!
2. Edelrid Hannibal
The Edelrid Hannibal is the German brand's canyoning-specific descender. Available in a lime green colour, it has a symmetrical structure allowing intuitive use with left or right hand and increases its lifespan.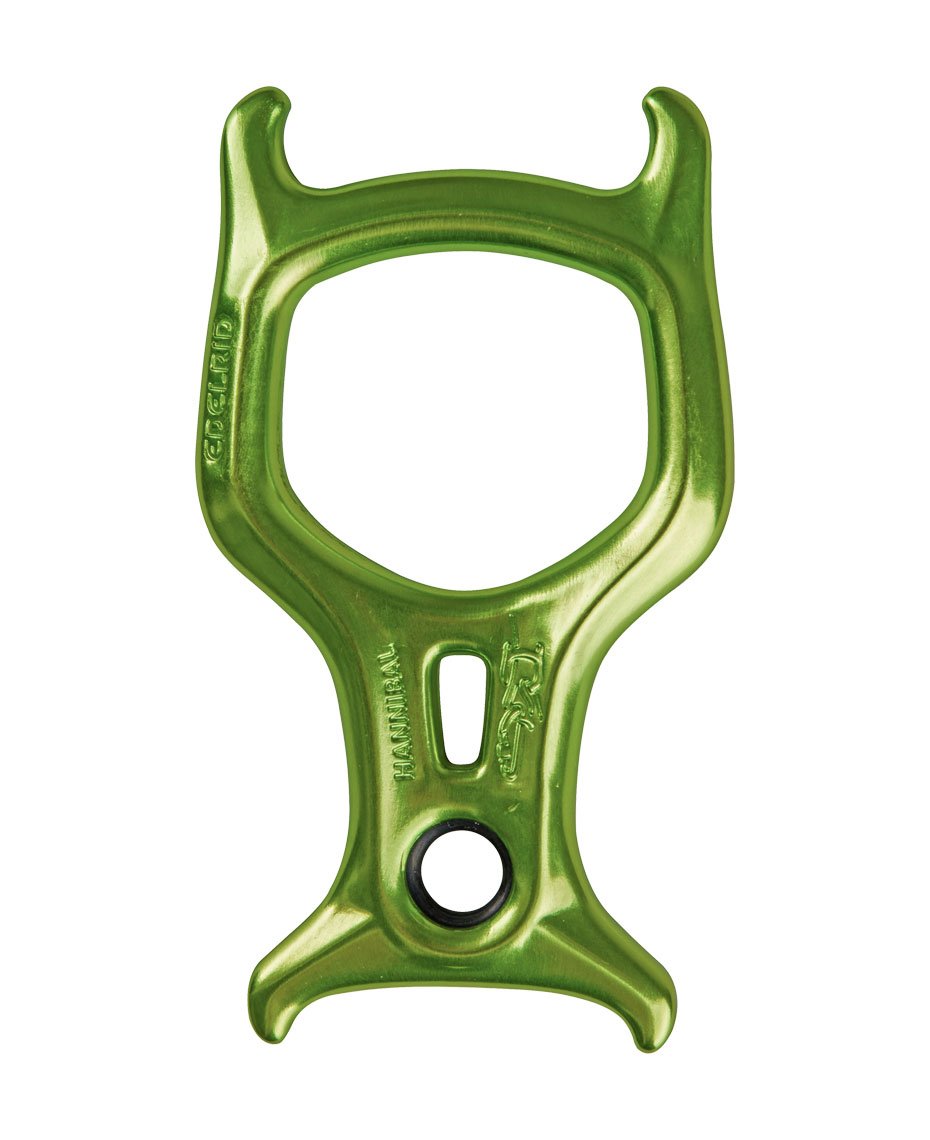 Its design is a modern take on the classic Figure 8 descender with the addition of spurs on its edges. The attachment point fits most XL carabiners and features a rubber "O-ring" that keeps the descender in place. Its chassis profile is rounded which allows the rope to run smoothly with perfect amount of friction.
The cons of the Hannibal are its small spurs which, in our opinion, are not large enough to hold the rope after adding friction. It is also not suitable for use with double rope technique or thicker ropes (>10mm). Overall it is a nice descender and very popular for commercial operations as its sturdy & symmetrical construction as well as lower pricing range make it a popular option for with professional canyoning guides.
3. Petzl Pirana
One of the first canyoning descenders to hit the market, the Petzl Pirana has been a pioneer in the industry and has developed a good reputation with the community. Now with a significant redesign while keeping its characteristic asymmetrical pirana-shaped body, the all-new 2020 Petzl Pirana bites back at the most recent canyoning descenders to hit the market and shows the French manufacturer's commitment to its new canyoning line.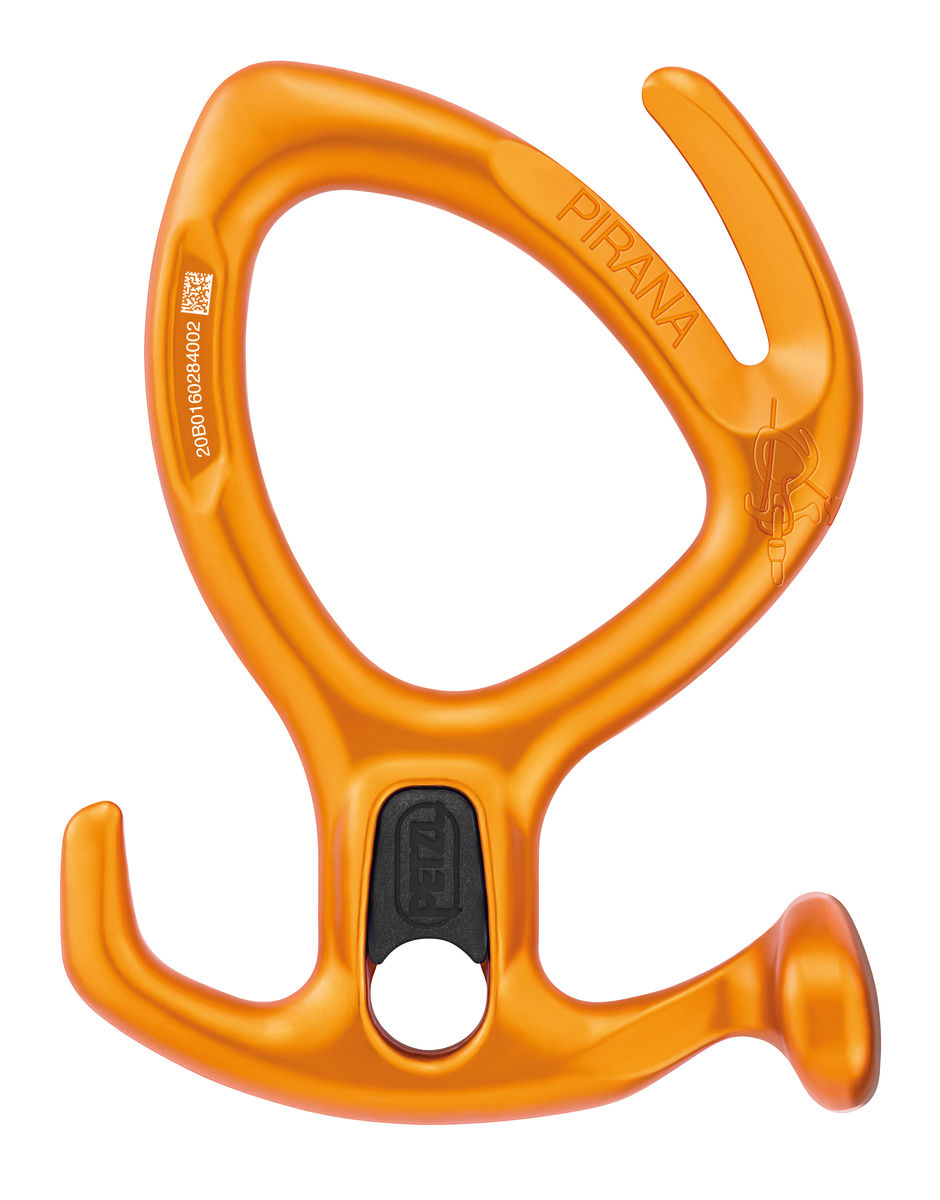 You'll quickly notice that the size of the canyoning descender has increased to better accommodate thicker ropes or double rope technique. The main changes from the previous model are in the friction spurs design: the lower thorn had its edges smoothed and is not a snag hazard anymore. The attachment point remains the same trialed and tested set-up from the older version, the sturdiest in the market.
The controversy comes from the top friction spur and its sharp edge: Petzl announces it as a soft-lock feature which cinches on the rope's sheath for immediate stop. We'd rather have the ability to add more friction than this feature, as a soft-lock still requires keeping a hand on the brake strand as we cover in this article.
After many years of hiatus, Petzl is back investing on canyoning equipment and we are glad that a major player in the market sees the potential in the industry.
4. Imlay CRITR2
Made in USA, the CRITR2's design has been acquired by Imlay Canyon Gear and is quite a popular canyoning descender amongst North American canyoneers. With its trademark "tiki" symmetrical body design, the CRITR2 is also available in a variety of colours for the "canyoning fashion" savvy!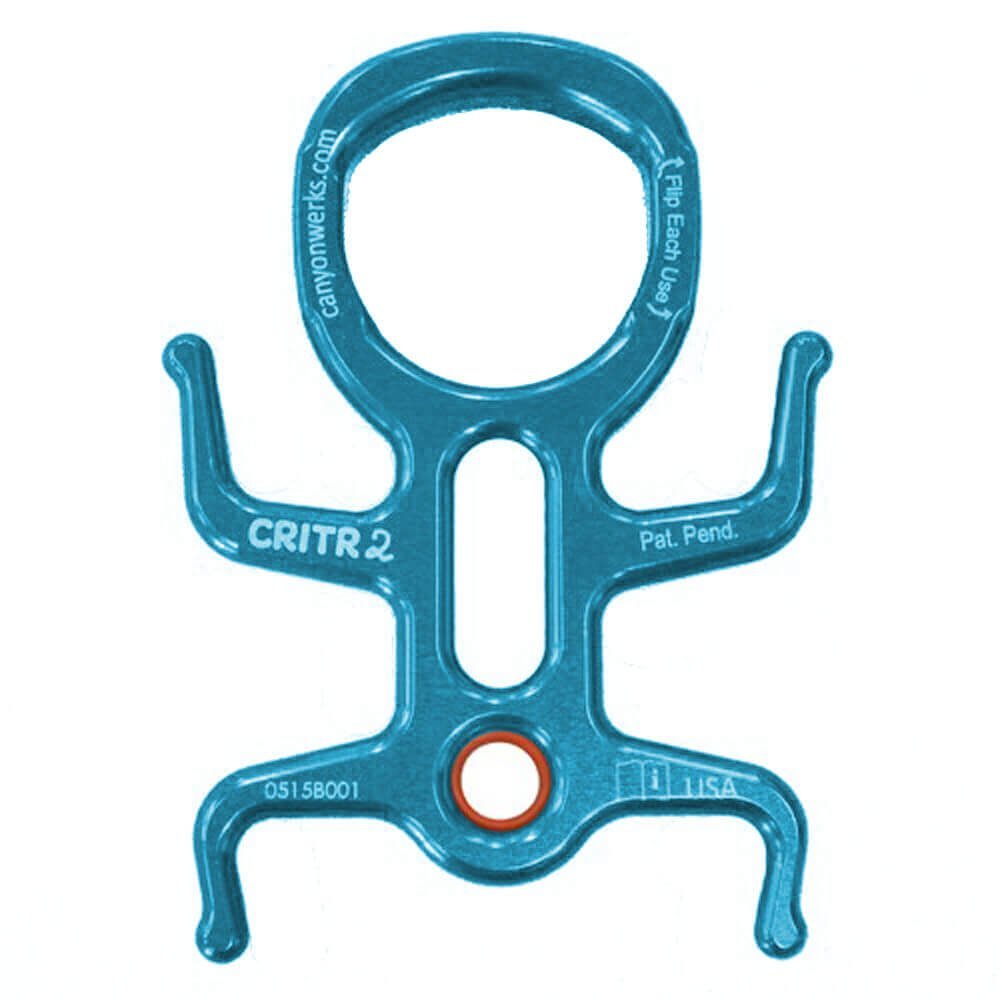 The CRITR2 is a sturdy canyoning descender and has a similar attachment point to the Edelrid Hannibal and fits most auto-lock carabiners. The spurs are pronounced and it's very easy to add/remove friction while on rappel as well as locking-off. The body's main axis features an ATC-style opening; it also helps reduce the weight of the device (the heaviest of them all).
Although its edges are smooth, the angles are narrower than the Hannibal making it a slower device for thick diameter ropes; the main opening is also small and makes it not suitable for thick double rope technique. When using it with small diameter ropes, the CRITR2 descender is a very nice device.
What's your favourite canyoning descender?
Choosing a canyoning descender that is suitable to your level of practice can be of great help. We recommend you try as many as you can until you find the most adapted for you. Did we miss your favourite descender? Head to our online canyoning community and let us know so we can add to another comparison!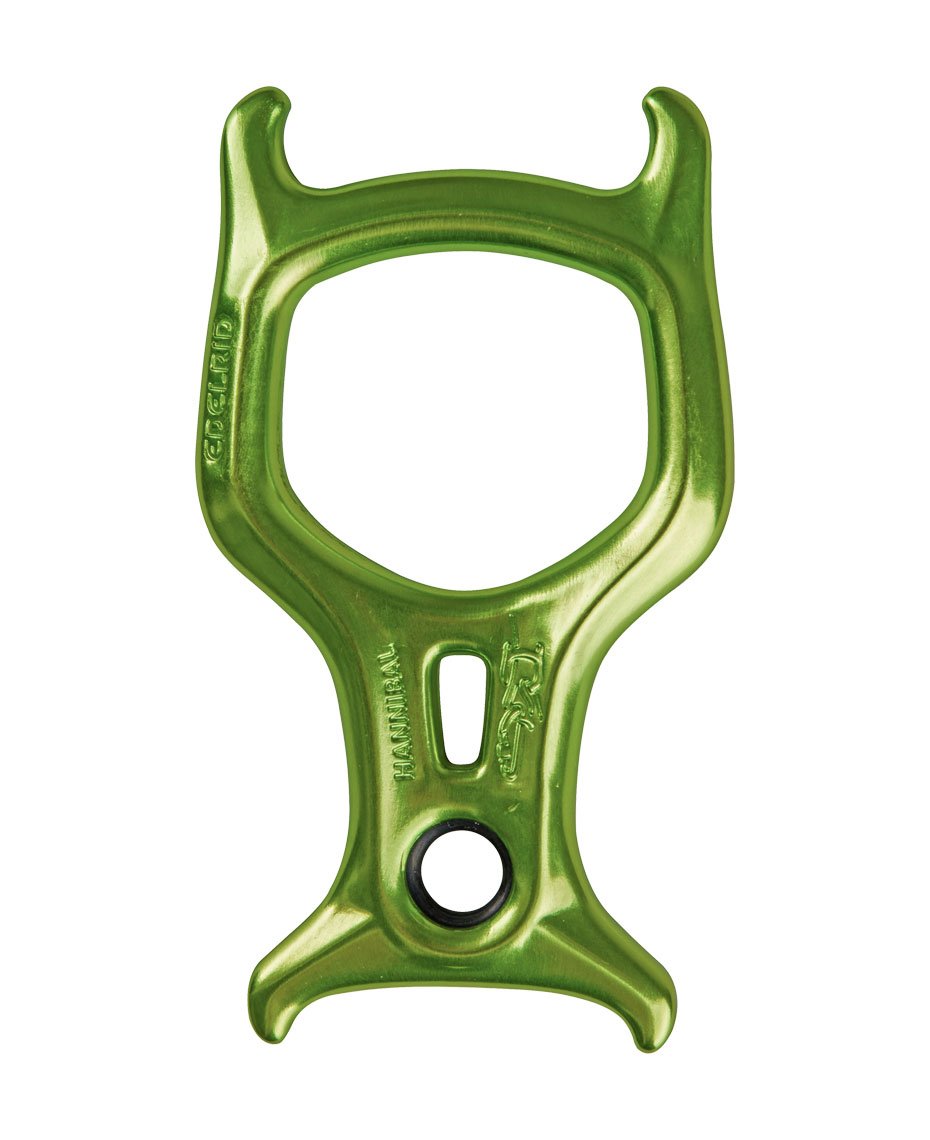 Symmetrical (ambidextrous)
Stays in position
Sturdy

Not suitable for large ropes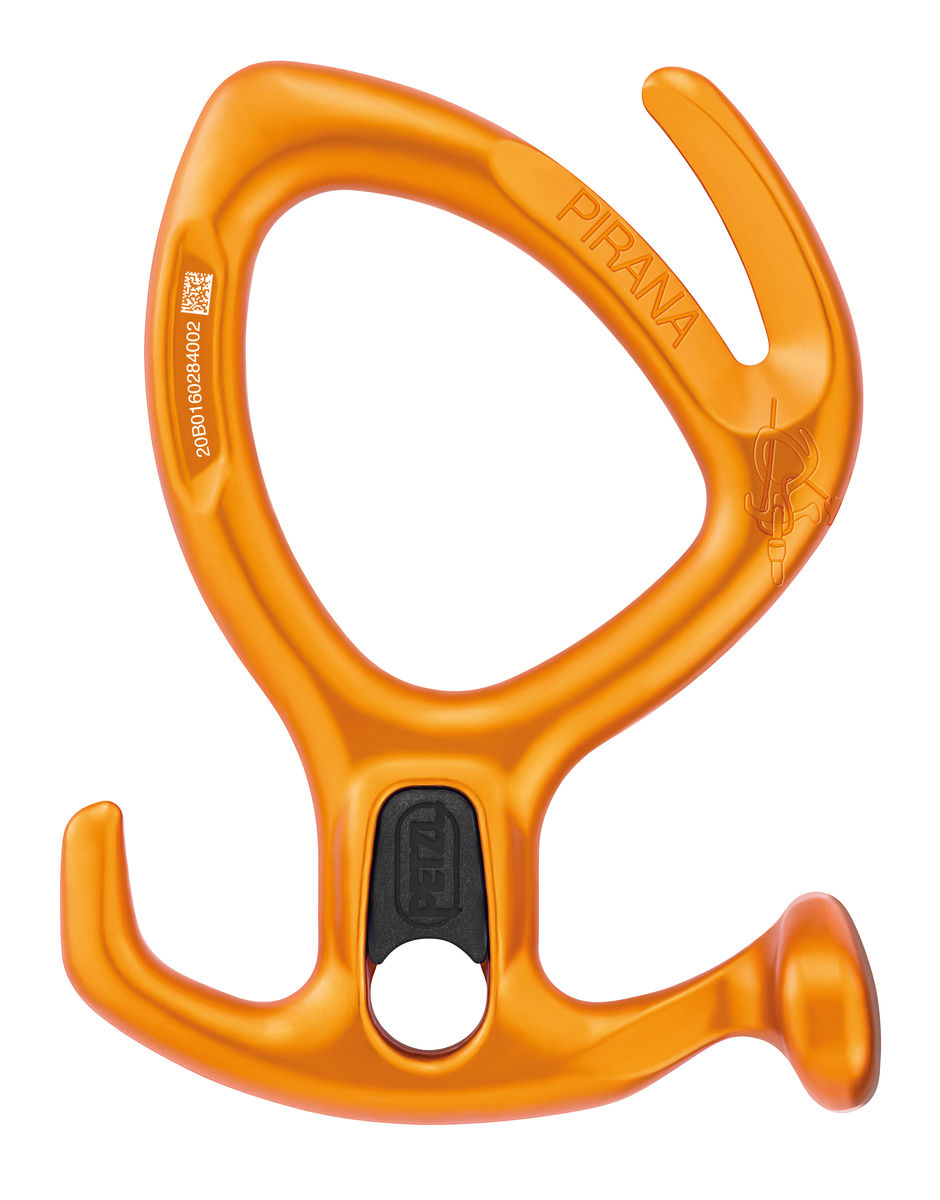 Sturdy
Attachment point
Large opening
Soft-lock sharp edge spoke
Slightly too large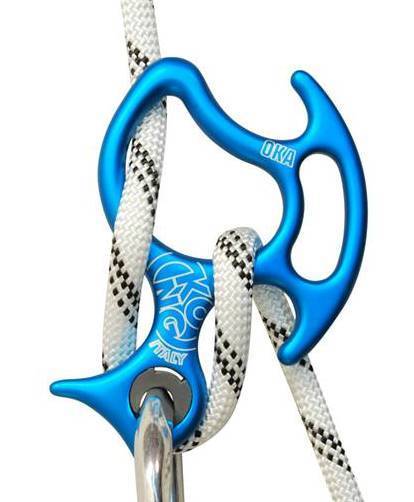 Large friction spokes
Versatile use
Attachment point is fragile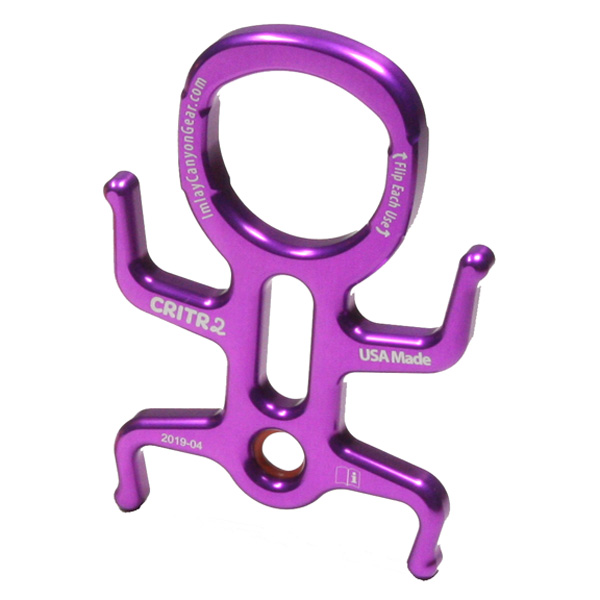 Symmetrical
Quick lock-off
Sturdy
Not suitable for large-diameter ropes
Join the discussion
Want to leave a comment on this subject? Have something interesting and relevant to add to the article? Register now and contribute to the community on V7 Academy's international canyoning forums.
It's free for all.
Join forum
Quicklink
Canyoning descenders are friction devices which provide multiple friction (speed) modes and allows us to add/remove friction on the go. They also provide quick lock-off options as well as static positions for performing on-rope techniques.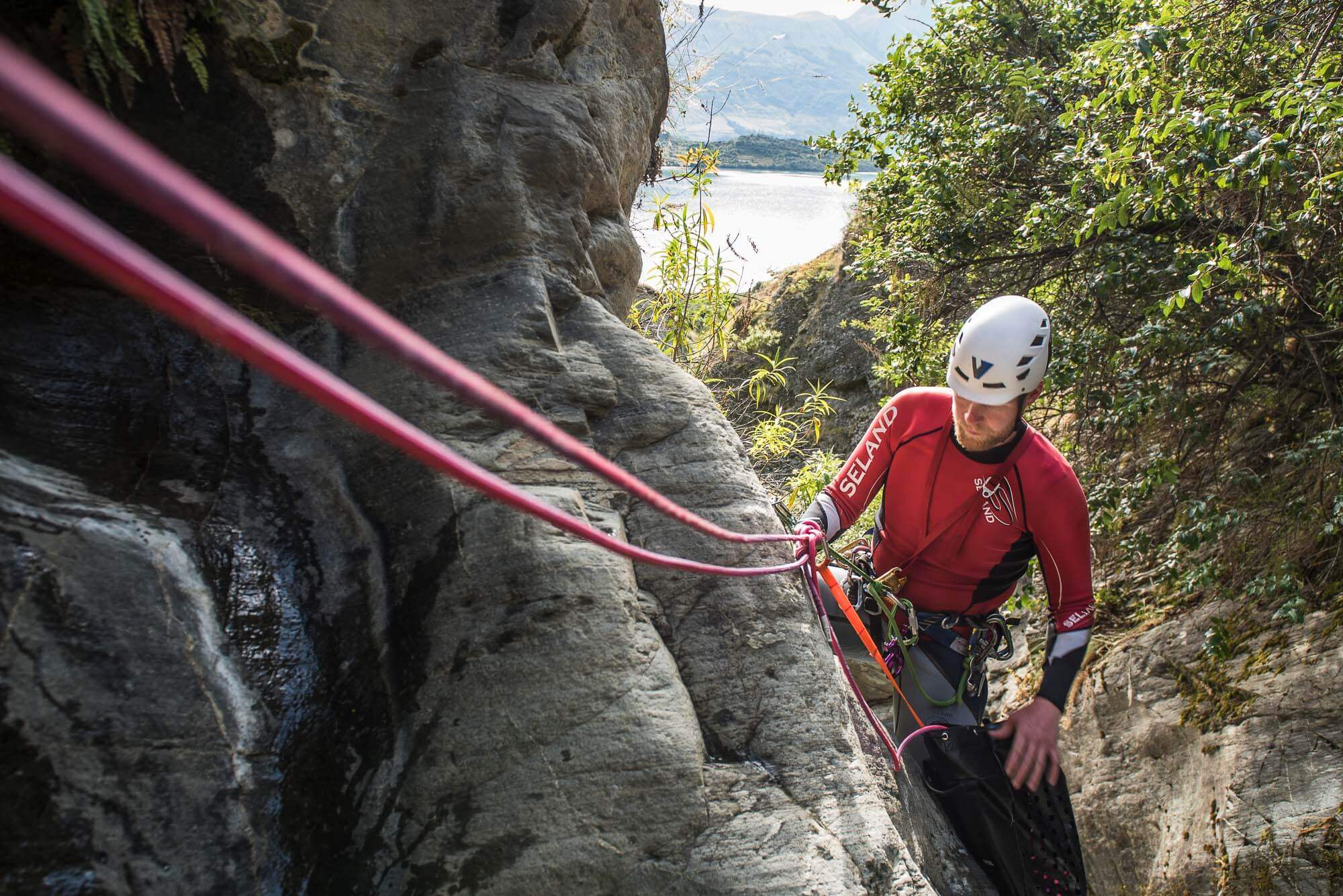 About us
The first online canyoning training program by canyoneers, for canyoneers. Now available.
V7Academy.com
Get the latest articles
Receive canyoning news on your inbox. Subscribe below.