As we progress in our canyoning practice level, learning and mastering how to ascend on a rope becomes necessary as it is a very helpful skill for more complex self-rescue scenarios and unforeseen scenarios. By making use of our specialised equipment we can efficiently climb back on the descent line according to the situations presented. On this article we will cover the modern technique for canyoneers to ascend on a rope safely.
NB: This is a part of the V7 Canyoning Level 2 course designed with independent canyoneers in mind.
Ascending On a Rope - Modern Technique
Overview
Essentially, ascending rope using 'Modern Technique' requires the use of toothed mechanical ascending devices (i.e. Petzl Basic), along with good technique and correctly adjusted lanyards. Ascending a rope is a fundamental technique, and as mentioned it is great for self-rescue for anyone using ropes and with canyoning it is no different.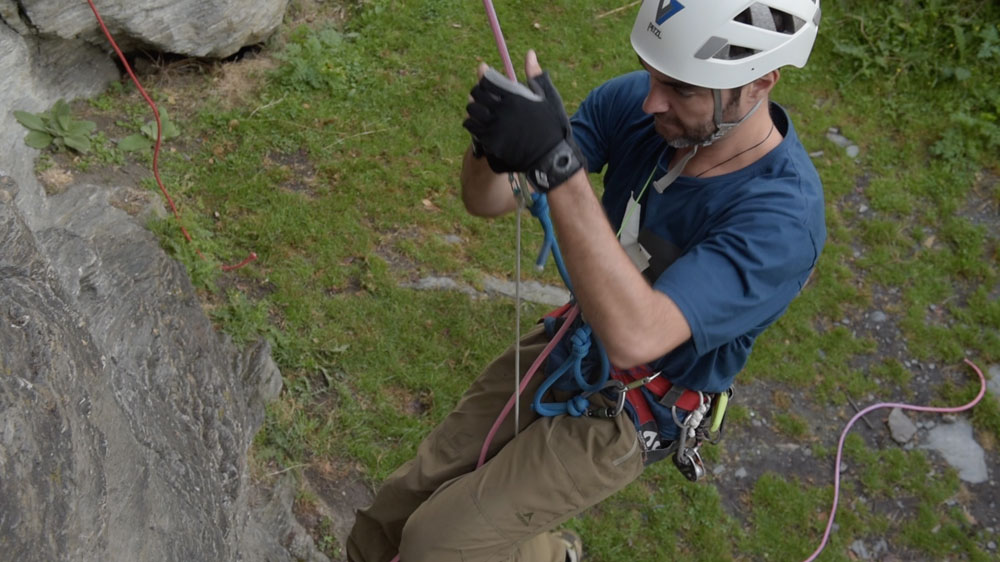 The primary purpose of ascending a rope is to get back to the top of the pitch. In addition, there are numerous other situations where we might need to ascend a rope. Here are the most common:
You or a teammate may have left equipment at the top of the pitch, and there's no easy way around to retrieve it.
The rigging was poorly performed and/or the de-rigging was not done properly: it is now impossible to pull your rope through and retrieve it.
You may have gone down the rope to scout the bottom of the waterfall for a jump. You identify a high risk or problem and decide to go back up the rope to work out the problem.
The last teammate has misjudged the rope length required and the pull-through rope (unloaded strand) is too short. You may need to ascend the rappel rope to readjust the rope length.
Despite, we shouldn't solely focus on the reason for ascending; as with all technical skills, there are risks involved and we must analyse these prior to engage on the ascent.
Let's look at some limitations of ascending on a rope.
Rope Strands
If only one strand is available, it could mean that the rope got stuck during retrieval and therefore it is unsafe to ascend on it. The chance of it coming unstuck during ascent is highly likely and extremely dangerous. Serious accidents have resulted from this exact scenario, so it is forbidden to climb on stuck ropes unless both strands are available at the bottom.
Even when both strands are available, it is recommended that a teammate is connected to the rope strand opposite to the ascent line thus becoming a "bottom anchor" for added safety.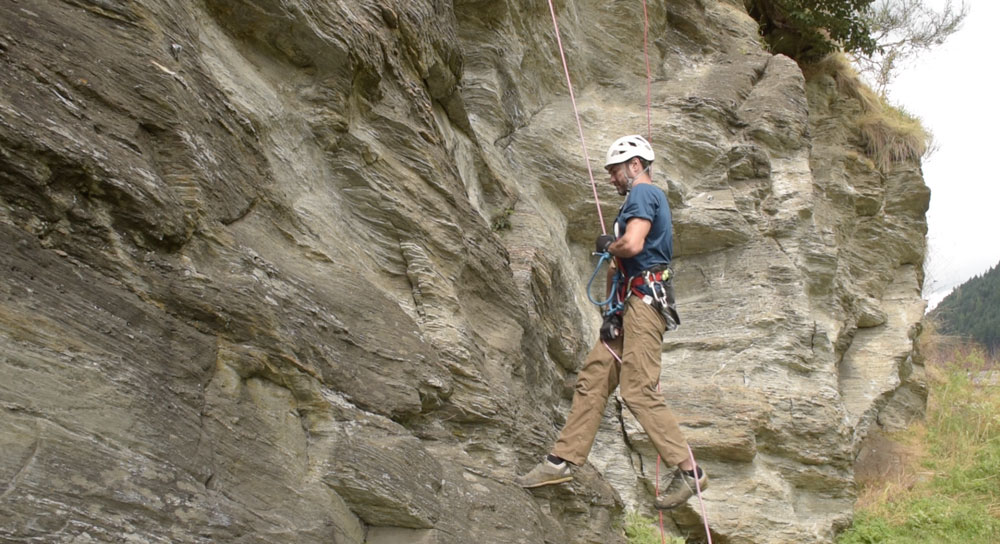 Aquatic Factor
Descending through water can be tricky: ascending through moving water is even trickier.
The force of the falling water significantly increases the effort required to climb up. Additionally and in line with the principle of ascending, we are blocked on the rope preventing us from falling, but being blocked under the water is extremely dangerous and can result in serious accidents. For this reason we should avoid at all costs ascending under water flow.
Rope Abrasion
We may be using semi-static ropes designed for canyoning, hence the practice of ascending on a rope results in rope stretch and contraction. This means we'll be involuntarily bouncing on the rope, which can result in damage if it's touching the rock. We call this an abrasion point.
The constant motion during ascent will invariably damage the rope and could also result in it being cut while under load. If an abrasion point is not isolated or eliminated, it can result in serious accidents.
Therefore before you commit to ascend a rope ask yourself these questions:
Are both rope strands available at the bottom of the pitch?
Does the ascent route include passages close or through flowing water?
Are there significant abrasion points which might damage the rope?
If the answer to any of these questions is YES, then you should reconsider your decision and find other alternatives. Our V7 Canyoning Level 2 course has comprehensive content that can provide you with the knowledge to overcome these situations.
On Part 2 of this article we'll cover the skills required to ascend on a rope. Stay tuned for more and subscribe to our newsletter in order to stay updated on the latest articles; it's free!
Join the discussion
Want to leave a comment on this subject? Have something interesting and relevant to add to the article? Register now and contribute to the community on V7 Academy's international canyoning forums.
It's free for all.
Join forum
Quicklink
Knowing how to ascend on a rope is an essential skill to have for self-rescue and unforeseen situations. This article provides an overview of the scenarios and risks associated with the technique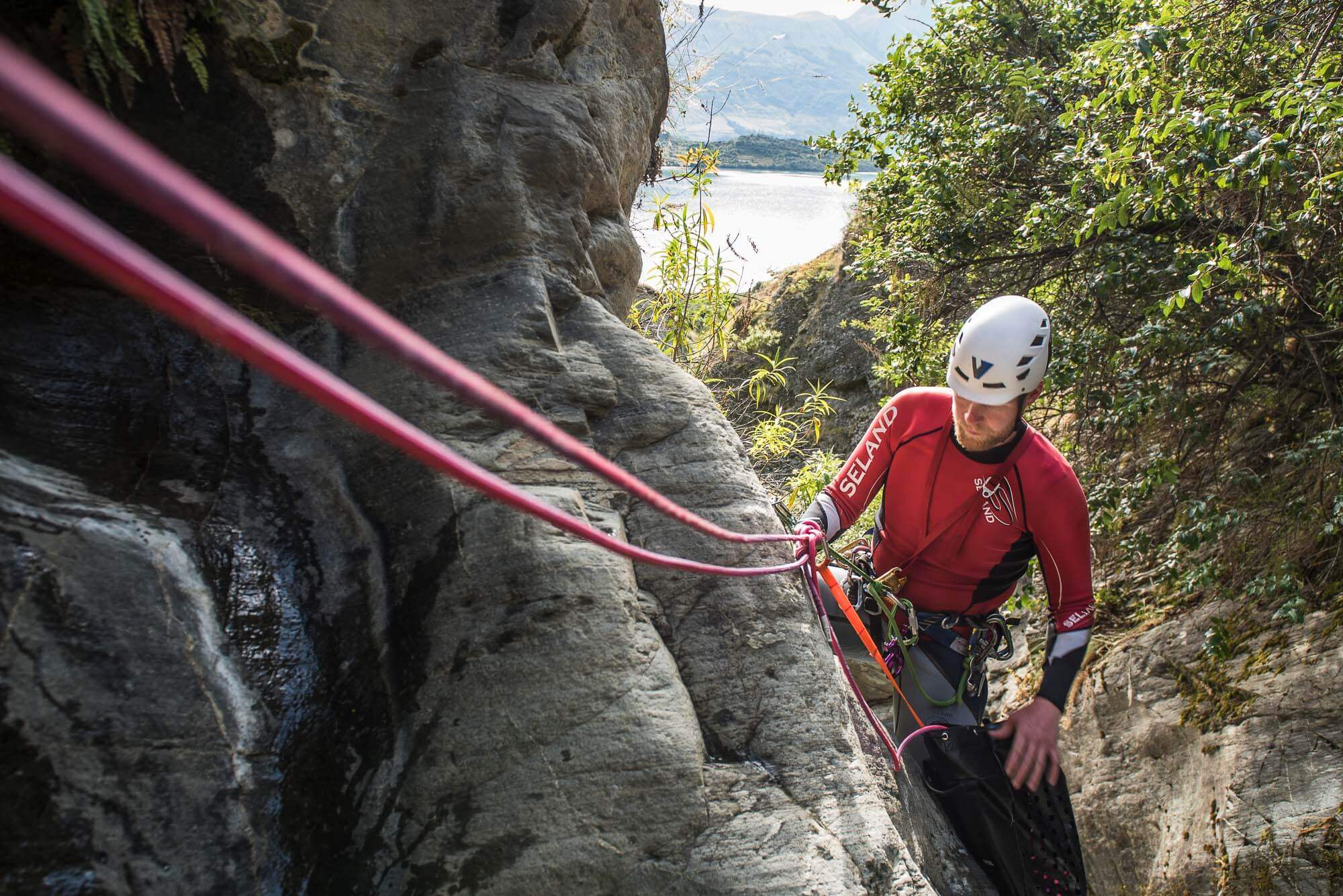 About us
The first online canyoning training program by canyoneers, for canyoneers. Now available.
V7Academy.com
Get the latest articles
Receive canyoning news on your inbox. Subscribe below.